The numbers on which of these credit cards always start with the highest digit?
A1 - Visa
B2 - Mastercard
C3 - Discover
D4 - American Express
*
*
*
*
*
*
*
*
*
*
*
*
*
*
*
*
*
*
*
*
*
*
*
*
*
*
*
*
*
*
*
*
*
*
*
*
*
*
*
*
*
*
*
*
*
*
*
*
*
*
*
*
*
*
*
*
*
*
*
*
*
Answer: The first six digits of the credit card represent the Issuer Identification Number (IIN), commonly referred to as the Bank Identification Number (BIN). These digits clearly identify the financial institution issuing the card. The first digit is the Major Industry Identifier (MII), and it is assigned by the American Banking Association. Each major credit card network has its own unique MII: American Express cards always begin with the number 3, specifically 34 or 37. Visa cards begin with the number 4, Mastercards start with 5, and Discover Cards start with the number 6.
Also -
And, the top 3 largest McDonald's!
3 Epic McD" McDonald's
Seats: 350 guests
Size: 19,000 square feet
Location: Orlando, Florida
Year Opened: First opened in 1976, and reopened in 2016 in a new building.
Point of Attraction: 30-foot-tall Ronald McDonald, and a huge arcade.
This mammoth establishment boasts the title of "Largest Entertainment McDonald's in the world". A solid cut above your average burger joint, this massive Entertainment McDonald's offers novelties such as a 22 foot tall play structure and a 2000-square-foot arcade. The food is also guaranteed to please, and is skillfully prepared in an open kitchen with top-of-the-line commodities such as a brick pizza oven.
Did You Know?
The menu at Epic McD doesn't just limit itself to burgers and fries. You're bound to find something for everyone at this McDonald's, even if members of your party are in the mood for pasta, pizza, or Belgian waffles. The "Create Your Taste" option also allows customers to order custom-made burgers and sandwiches with toppings of their choice.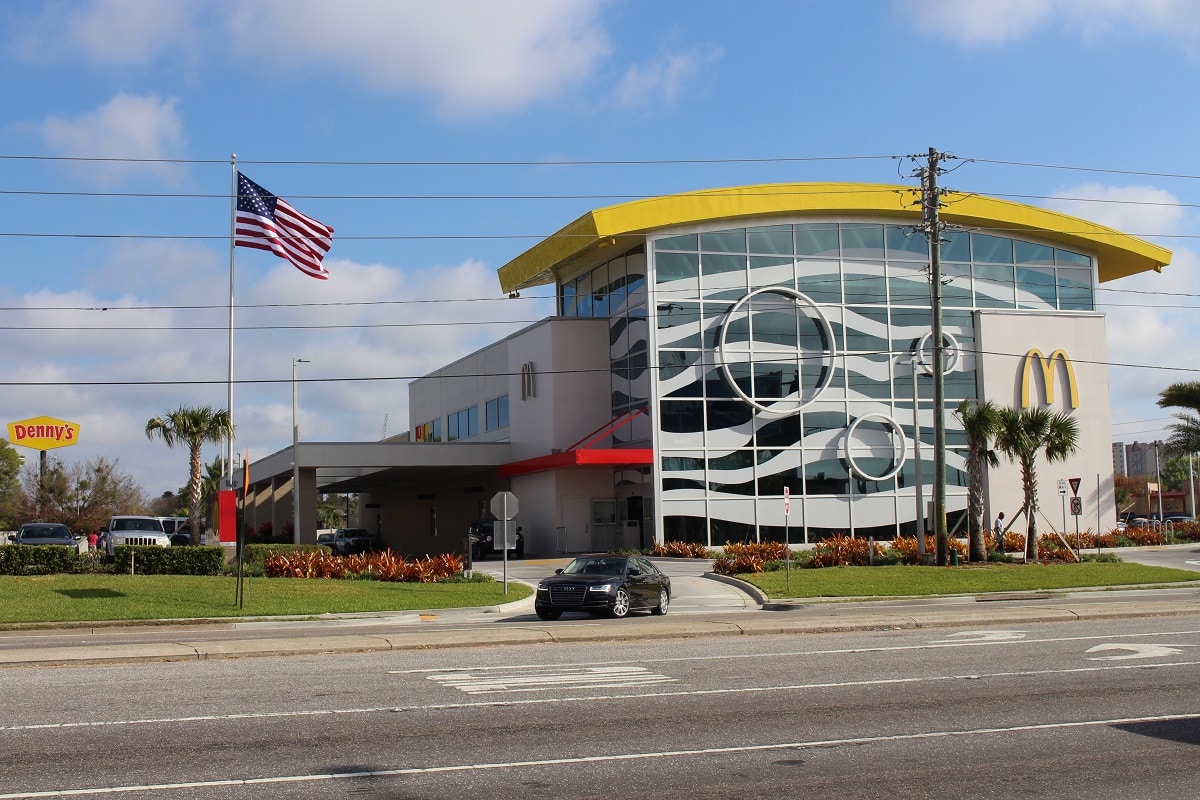 2 Moscow McDonald's
Seats: 900 guests
Size: 28,000 square feet
Location: Moscow, Russia
Year Opened: 1990
Point of Attraction: First fast food restaurant in Russia
When this huge McDonald's opened in Pushkin Square in Moscow, 5 thousand people eagerly attended its grand opening. Many people were willing to wait in line for six hours or more to get their first taste of American fast food. This grand opening turnout skyrocketed as the new restaurant served over 30,000 visitors that day and set a world record.
It held strong for some time as the largest McDonald's in the world, but has since been outdone. However, it will always retain its title as the first fast food joint to open in Russia.
Did You Know?
While still exceedingly popular, McDonald's restaurants have suffered from unsteady footing in many areas of Russia after the people were encouraged during recent years to avoid western food.
1. Frankfurt Airport McDonald's
Seats: 650 guests
Size: 43,055 square feet
Location: Frankfurt, Germany
Year Opened: 2015
Point of Attraction: Size and convenience after a long flight
The Frankfurt McDonald's in Germany is the largest McDonald's in the world. The bustling airport in Frankfurt, Germany is home to the largest McDonald's in the country. It was renovated in 2015, taking on a more modern edge in order to maintain its standard as a landmark of cultural progression. The Frankfurt Airport McDonald's, like many other McDonalds' in Germany, offers table service in order to improve the quality of customers' experiences. The friendly environment of the Frankfurt McDonald's also includes a play area where children can enjoy themselves after their meal.
Did You Know?
Germany has proven to be a challenging environment for McDonald's despite its widespread popularity. The fast food chain struggles to balance convenient, affordable food with the growing desire to maintain a healthy diet.