On Monday I took my first proper ride (proper as not just round the block) to my local VMCC meeting.
It did not go well, the exhaust ring fell off 100 yards from home. Walked home to fetch a big pair of grips, put the ring back on and set off once more only for the ring come of again. Fitted it - again - only this time the engine was hot. Stayed in place for the rest of the ride , there and back.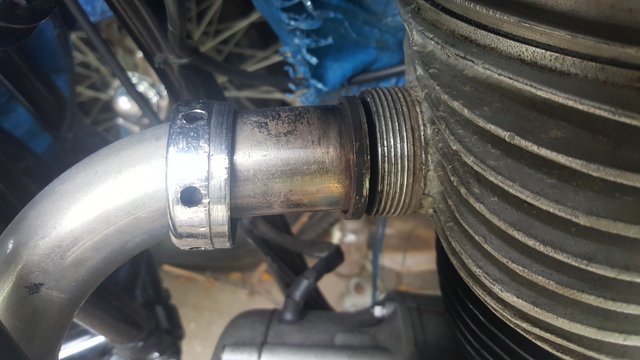 Should there be a gasket/sealing ring between the pipe and head? If there was one it was of course lost along the road somewhere. I plan to fit one anyway so have ordered 2 (0ne for spare) and the correct "C" spanner to do the ring up.
It's a long time since last rode BMW, I had both a R60 and a R26 in the (distance) past need to get used to BM's slow rather chunky gear change and the slow action throttle. Bike seemed to going better on the way home, me getting more used to it, or maybe the bike is just responding to use after being in store for so long?