New Year, New Project, Old Bike
Posted by John
on January 1, 2022, 12:05 am
Old in every sense old as in years, old as in how long I have had it, it was given to me many yeas ago as the proverbial "box of bits".
So just what was it I acquired all those years ago, and why am I now attempting to resurrect it? Firstly. itís a Ď37 New Imperial Model 100 350cc clubman with a Bentley and Draper spring frame. And why now? Well, if I donít do something about it now it never will get done, maybe ending as one of those sad piles bits you see at auto-jumbles or even worse, thrown away by uncaring relatives. Back then 1930's machine were considered virtually worthless, post vintag and classic bikes hadn't been yet invented.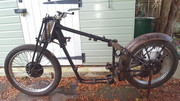 First time that the frame, wheels forks etc have been back together in the best part of 6 decades.