The 6th Annual Softball for a Cure Tournament will be on Sat. Sep 6th at Camp Upland. This tournament raises money for the Philadelphia Susan G. Komen 3-Day for the Cure Walk. We have raised $32,871 for SGK the past five years and the bar keeps getting raised.
I am looking for sponsors/donors for the tournament this year and wanted to reach out to this community.
The desire to improve the tournament with each passing year makes me look for new ways to involve businesses and individuals from the community in the event.
A few ways you can help are as follows:
Sponsor a team ($200 entry fee and team shirts).
Donate reuseable water bottles or other non-consumable item (with your branding) as giveaways for the 20 teams and volunteer umpires.
Donate products, services, sporting event tickets, or gift card as a raffle item.
Donate gift card to local grocery store to help purchase the food/beverages for the event.
We also would be grateful for any monetary amount donation and it can be made out directly to "Susan G. Komen" and sent to me to mail in.
In return for your donation/sponsorship you will be included on the professionally printed sponsor boards that are displayed around the fields throughout the day. We are also able to display any business flyers/posters you provide. Attached is a pdf of last year's sponsor board.
We also need help with borrowing canopy pop-up tents and 6-8' long tables.
If you can help in any way, please reach out to me asap.
Kristine Davis
610-742-4235
kristine.3day@hotmail.com
[img]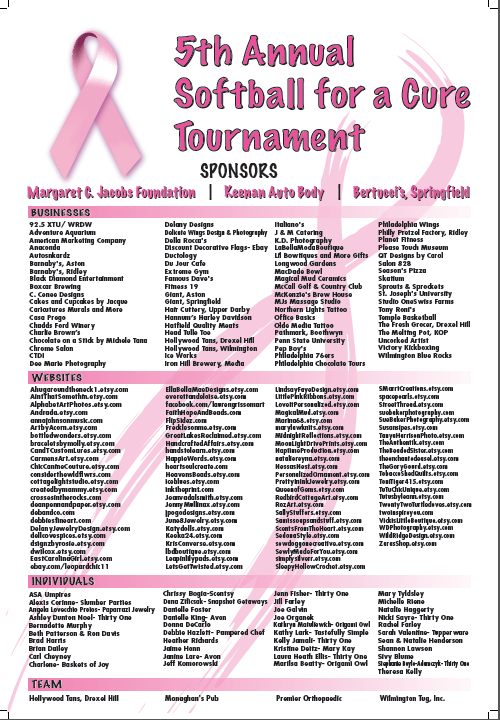 [/img]