Beeb & Laura K in full damage limitation mode, but not in the way you might think.
'the PM was referring to the profit motive driving companies to develop new products. The PM also reportedly praised work by large drug companies during the pandemic. [...] not intending to be critical of the pharmaceutical companies in any way'
Oh, so the govt & beeb both think it's fine to have profit-making corporations in charge of providing vaccines for this pandemic. No problem that they've claimed intellectual property on their products, so have refused to provide the details which would allow 3rd world medical establishments to make copies for the people who won't be able to afford the vaccines (which anyway have been hoarded by the affluent west). No problem with the incentive to stretch out & amplify profit-making opportunities from these vaccines as long as possible, fitting with big pharma's preference for chronic diseases w/ expensive treatments over cures.
The claim about Astra Zeneca producing their vaccine 'at cost' is laughable too. Just out of the goodness of their heart, eh? The company nearly doubled it's profits in 2020:
'AstraZeneca reported a pre-tax profit of £2.83billion for 2020, marking a hefty jump from the £1.12 profit achieved back in 2019, despite offering the Covid-19 vaccine on a not-for-profit basis at present. [...]

The vaccine helped boost revenues over the year, contributing £1.44million [er, do they mean billion?] to the company's total turnover of £19.21billion, marking an increase of 10 per cent.

Operating profits surged to £3.73billion, up 81 per cent with currency effects stripped out, as the firm hailed the success of fast-growing new medicines.

AstraZeneca said it expects to deliver revenue growth in the 'low-teens' this year, though it stressed the guidance does not include any sales or profit impact from the coronavirus jab or its planned takeover of US group Alexion Pharmaceuticals.

Fourth-quarter profits rocketed to £850million from £173million a year ago.

Revenues for the final three months of the year rose 11 per cent to £5.35billion, though this was slightly lower than expected.'
-
https://www.thisismoney.co.uk/money/markets/article-9249223/AstraZeneca-profits-double-year-amid-soaring-demand-cancer-treatments.html
They've benefited from a stack of taxpayer money: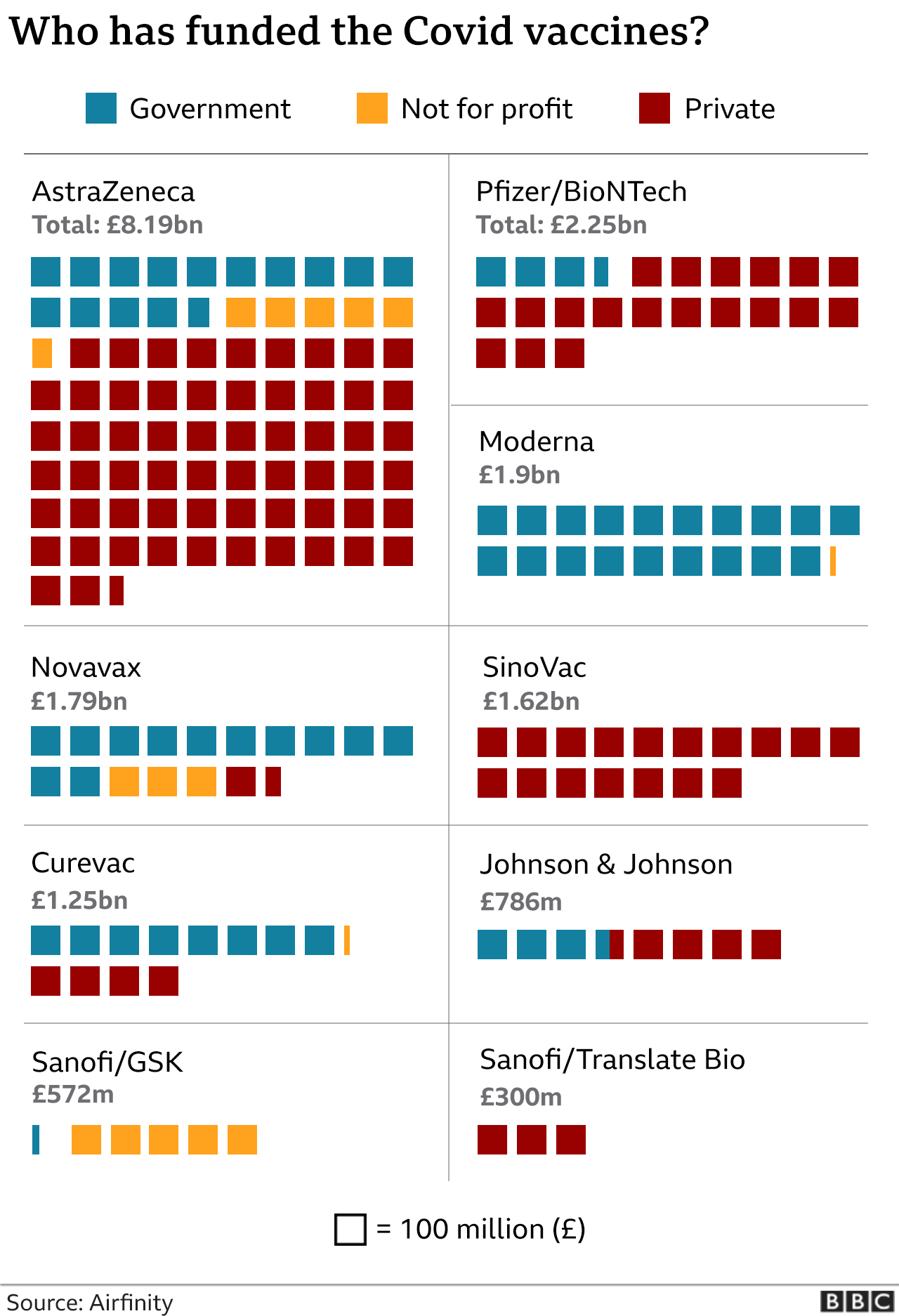 https://www.bbc.co.uk/news/business-55170756
And the 'at cost' pledge is only for 'during the pandemic period' which, astonishingly, the company gets to decide the end of, slated for this July:
*****
https://www-ft-com.eur.idm.oclc.org/content/c474f9e1-8807-4e57-9c79-6f4af145b686
AstraZeneca vaccine document shows limit of no-profit pledge
Company has right under contract to declare pandemic over by July 2021
Donato Paolo Mancini in Rome October 7, 2020
AstraZeneca, which has promised not to profit from its Covid-19 vaccine "during the pandemic",
has the right to declare an end to the pandemic as soon as July 2021
, according to an agreement with a manufacturer.
The UK pharmaceutical company, which is developing a vaccine candidate with Oxford university, has said it would provide doses on a cost basis for at least as long as the pandemic lasts.
However, a memorandum of understanding between AstraZeneca and a Brazilian manufacturer, which has been seen by the Financial Times, defines the "Pandemic Period" as ending on July 1 2021. The period could be extended but only if "AstraZeneca acting in good faith considers that the SARS-COV-2 pandemic is not over", it says.
But cases globally show no sign of tapering. Even optimistic forecasts predict an approved vaccine is unlikely to be widely available for public vaccination campaigns before the middle of next year.
The MoU outlines the conditions of a deal signed in July between AstraZeneca and Fiocruz, a Brazilian public health institution, to produce at least 100m vaccine doses, worth more than $300m.
It seems that it is the drug companies that determine, in secret deals, who will get access to the vaccine and when
Ellen 't Hoen, Medicines Law & Policy
Pascal Soriot, AstraZeneca's chief executive, has previously said that a number of factors would influence the company's assessment of when the pandemic is over, including the World Health Organization's own analysis, but has not been more specific. He has also declined to disclose a post-pandemic price point.
The future cost of any approved vaccine is a contentious issue after pharmaceutical groups including AstraZeneca, received hundreds of millions of dollars in public money to fast track development. Some companies have said from the outset that they can only develop the vaccine for profit. Others, such as AstraZeneca and Johnson & Johnson, have agreed to provide doses on a cost basis for at least as long as the pandemic lasts.
Several drugmakers have already signed sales agreements with governments but the terms of the contracts are confidential and few details have been released.
AstraZeneca declined to answer specific questions regarding its definition of the "Pandemic Period" or the Fiocruz agreement.
"From the outset, AstraZeneca's approach has been to treat the development of the vaccine as a response to a global public health emergency, not a commercial opportunity," the company said in a statement. "We continue to operate in that public spirit and we will seek expert guidance, including from global organisations, as to when we can say that the pandemic is behind us."
Oxford university also declined to respond to specific questions. "The terms of our agreement are confidential but uphold Oxford's commitment to fair and equitable access to the vaccine for the duration of the pandemic should it prove to be effective in our global phase 3 clinical trials," the university said.
Public health experts say many of the vaccine deals, including those involving AstraZeneca, are shrouded in secrecy, offering little room for scrutiny.
Manuel Martin, medical innovation and access policy adviser at Médecins Sans Frontières, said the terms of the Fiocruz MoU gave AstraZeneca "an unacceptable level of control over a vaccine developed through public funds". "Relying on voluntary measures by pharmaceutical corporations to ensure access is a mistake with fatal consequences," he said.
AstraZeneca has received large amounts of public money to develop its vaccine and secure forward orders,
including at least $1bn from the US
. Supply deals to date indicate that the vaccine, which requires two doses, is priced at about $3 to $4 per dose, lower than the prices disclosed or reported for other potential vaccines.
Ellen 't Hoen, director of Medicines Law & Policy, a non-profit campaigning for greater access to medicines, said more transparency was needed.
"Despite all the talk about the Covid-19 vaccine needing to be a 'global public good' by political leaders who spend billions on Covid-19 R&D, it seems that it is the drug companies that determine, in secret deals, who will get access to the vaccine and when," she said.
*****
After this period they are going to start raking it in:
'Oxford professors Sarah Gilbert and Adrian Hill - who helped develop the jab - stand to make millions of pounds through start-up Vaccitech, which created the experimental shot alongside experts at the university's Jenner Institute.

Vaccitech is a private firm which owns intellectual property used in the vaccine's development. They together own about 10 per cent of the Oxford-based company, which will benefit both from royalties from the vaccine and 'milestone' payments.

However the money can only be paid out once the pandemic is declared to have finished, according to the company's royalty agreement with Oxford.

The 'milestone' payments are negotiated amounts based on landmarks such as regulatory approval, according to the Wall Street Journal.

The firm was valued at £65.8million last year before the pandemic hit. The pair will also be entitled to their share of revenue if the Covid-19 jab is sold for profit.

Oxford University also stands to make hundreds of millions of pounds, after it secured a deal to give the institution 6 per cent of all profits.

[...]

AstraZeneca and Oxford may be in a position to make hundreds of millions from the jab because it may be needed annually - like the flu jab - to give booster shots as immunity diminishes.

Their profits could be bolstered further as their vaccine is among the easiest to roll out, because it can be stored in a household fridge whereas Pfizer's needs to be kept at -70C (-94F).'
-
https://www.dailymail.co.uk/news/article-9098411/Troubled-path-approval-Oxfords-vaccine-professors-jab-make-MILLIONS.html
Does this explain why they only wanted to give people the first jab, dragging their heels until the second one - thus making it less effective and potentially during the more profitable period? Rising had a good segment on the immorality & ineffectiveness on relying on capitalism & profit-making corporations to stop a pandemic here:
The Pfizer zoom conference from 2:30 is especially revealing. These people don't
want
the pandemic to end - their financial self-interest is in favour of prolonging it as long as possible, to make it as lucrative as possible for them & their shareholders. To the extent that this shapes govt policy (of course it does, they're all in bed together) this will likely result in hundreds of thousands of excess deaths as well as the social & economic ramifications of rolling lockdowns while the thing lasts. Nothing could more clearly illustrate the sickness of the dominant culture, yet our cherished national broadcaster turns a blind eye, "nothing to see here".
jeers,
I