I guess what I'm saying, Tomski, is that when it comes to South Africa we can't jump to 'global warming' conclusions, when fire is a weapon of choice and a visible symptom of socio-economic frustration by an increasingly impoverished population.
Screenshots of tweets (over this weekend) from persons previously photographed in Economic Freedom Front (EFF) T-shirts:
Previous Message
"UCT students must assist the fire by adding petrol. Rhodes Memorial must burn to the ground. Ashes to Ashes"

""Absolutely! Stellenbosch, Pretoria and other apartheid universities must follow suit! They must add petrol and whatever that will make that fire burn even more!"

"Burn. Burn. Burn. The North remembers."

"We pray for a strong wind"

"These places must burn to the ground.
This is not just a fire but a cleansing process. Colonial rot has no place in our society. Let it burn. Students must assist with petrol and parafin to make sure the step that nature has taken is quickened."

"The fire calls for a celebration. Colonialism and its accolades must burn in all spaces".

The leader of EFF was invited to speak at Chatham House a few years back and also has been photographed in London lunching with Sir Robin Renwick.
Western media doesn't report the dark side of Mandela's 'rainbow nation' (which was identity politics writ large, with failure to address inequality). Is this because their man President Ramaphosa is not to be embarrassed? Or is it just a function of western media not being interested in African nations, other than reporting how dreadful they are, which convinces western populations how terrifying the world is 'out there'?
Arson not only in open spaces and universities (seat of intellectual struggle) but also in trains in the Cape area.
Over 50% of Cape Town's stock of more than 80 suburban trains has been set on fire and taken out of action during a six-year wave of arson.
"In my mind there is some sort of campaign, or sinister force, that is behind this," said Brett Herron, who oversees the city's transport systems in the mayor's office. "For me, it's not random - it just seems to be too well orchestrated. We've had about 140 carriages destroyed [in] an almost weekly occurrence."
Disgruntled employees, paid a pittance, frustrated by squashed strike action? EFF keen to destroy the last perceived space of 'colonial power' because of its 350-year-history (Cape Town founded at same time as New York) - in slash-and-burn exercises?
Who knows? I don't have the answers.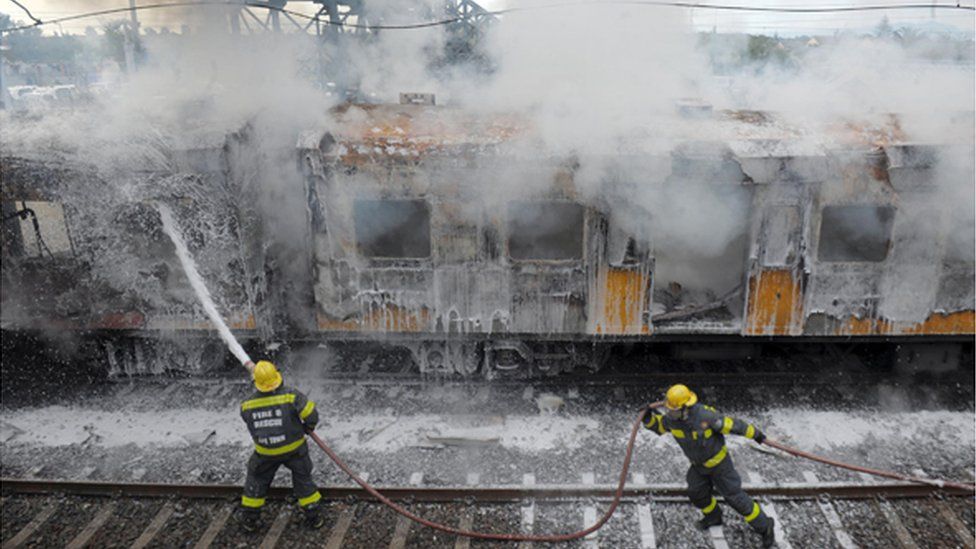 Fires are often set in streets during civil society protests by people frustrated at waiting for service delivery of water, sewage systems, clinics, schools, houses.
That so much money was swindled last year on PPE contracts and spent on white elephant "Nightingale hospitals" - rather than money channelled into needy clinics - adds to civil frustrations