By evening, when the beach BBQ rolled around, all pretence at social distancing was gone
#Faces #Hands #Space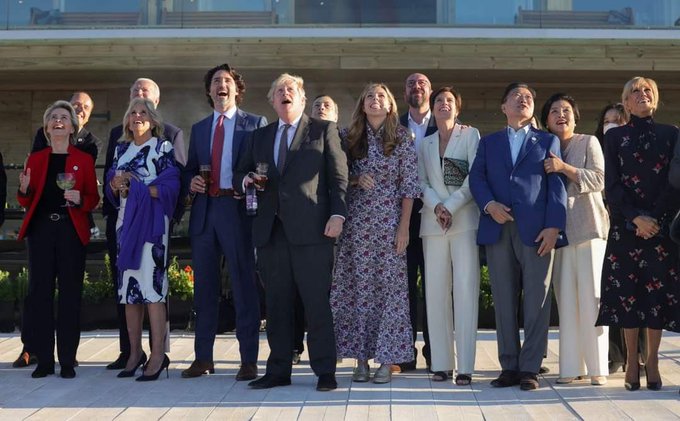 what's also interesting about these photographs is that the South African President Cyril "
Marie Antoinette
"** Ramaphosa (who is in Cormwall as an honororary G7 invitee, being such an intimate part of the Biden-Johnson-Davos group) appears in just about none of them. Why is he kept out of sight... or is it his choice, as he fears South African backlash?
Ramaphosa flew in - no quarantine - from the 'deadly South African variant' region, remember? (Ordinary South Africans are locked in, declared a pariah Red Country, by WHO and state of emergency decree).
Rumour has it that an Indian invitee is there, too? True or not? Hidden in the Delta beach cabin?
(Vaccines are no protection, non-VIPs are told. Vaccinated people can still spread the virus, hence the directive to continue masking and distancing
)
only one or two photos slipped through ...
** Billionaire and Davos/WEF enthusiast Ramaphosa recently defended his parliamentarian backbenchers' desire for pay increase on their generous annual salaries, saying they need more money as they "
are struggling to make ends meet
" ... even as he oversees an erratic and patchy R350.00 (GBP 16.00)($25.00) once-off "furlough" roll-out to the rest of the population, where unemployment is rising above 45%