Good questions. You have my knickers in twist, so to speak. Let me try for an interim clarification, taking into account that I have a problem of navigating through various memory and rabbit holes. I haven't looked at this stuff for ages ... sorry.
You say:
I thought west's video showed the graphic of the 'perfect collapse' simulation that supposedly matched the video, and comments that it isn't dynamic analysis either - which is obvious to look (maybe I misunderstood and there's a deeper modelling that is not used in the graphics, but why not show that graphically? (maybe he did and west cherry picked) - the way the penthouse falls in that graphic is well false-looking, overall it looks more dubious to me than the nist one - accounting for NIST being a proof of concept and not a direct simulation (which would be impossible without knowing exact temparatures etc (initial conditions).
At the outset Hulsey (vid in 2017) stated they used ABAQUS and SAP2000. Checked that both were also capable of dynamic non-linear analysis. Yes to both. Checkable.
(hopefully without muddying the waters, Hulsey also used SOLIDWORKS s/ware for heat transfer - whilst I remember).
Tiny caveats ... I haven't used ABAQUS - it's mostly used for oil-rigs in my line of work in terms of structural analysis and design. Nor SOLIDWORKS – a relatively specialist item. I used SAP2000 by proxy (my engineers used it - it's all relatively standard by now with these progs). I used STAAD2000 and LUSAS/MYESTRO (London Uni) ... finite elements, static only at the time, in early 80s and 90s. Fwiw all these progs have post-processing modules for graphic simulations. Meanwhile, I used to have fun simulating quasi-dynamic scenarios of huge tanks reacting to Richter scale 9 earthquakes in India in 90s (everything survived Richter 8.5 in 2000 odd : )). Good for showing off to the guys after they come back from pub on Friday afternoon
The post-processed data i.e. the results, are available for simulation graphics modules within both of these progs. Now, as you know, we had to put up with very poor animations of line (stick) model collapse from AUni team, which Mike West critiqued and imv it was removed from reality i.e. made up - you mentioned this (btw I don't know why they did this … time/effort? … one can speculate). NIST at least produced a very decent 'freeze frame' model of column 79 buckling (according to their calcs : )) – not sure where that fits into their presentation .. it is hoped it is a freeze-frame from their global collapse model haha : ):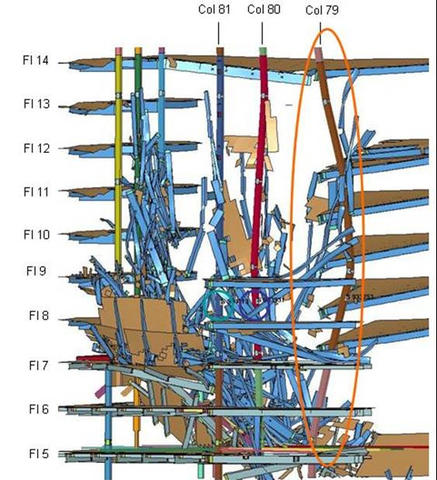 Whilst I remember – this is what I wrote 10 odd years ago:
Now, the 'office' or 'cellulosic' fire temperature is considered as 850 C (ISO 13702).
This ups the temperature I quoted to you before i.e. 750 C? The point being there is an international standard and fwiw for BS standards this temperature hovers around 650 C from memory. ASCE standard may be slightly different – again, not much different.
This increase of 100 C is no big deal to my mind and the increase in elasticity is for everyone to see i.e. standard Hook's Law and all that … essentially 90% up (or 90% loss of strength roughly in a relatively linear manner ish, if you like) from 20 C starting point. In other words, if the building is to collapse due to instability created by high elasticity/loss of strength of elements (due to temp) it may produce, what we term in the UK as 'progressive collapse' globally (after Ronan Point)… in the US they term it 'pancake collapse'. 'Free-fall' is something completely different, I need to stress.
What I have described/stated above are meanderings within my memory banks aided by a j and my weekly Sancerre (she keeps me on the bread-line : )). The only way I can progress this conversation is to look back through the videos to see what Hulsey has actually said and evaluate it in the context of our conversation and check the data. Look out for the ii version if I get the strength/interest etc. - all without a pay ... damn (I hope you get the drift)
.