Remember to take into account 'shifting baseline syndrome' - the insect population was already severely depleted when the study began in 2004. Don't know if the decline has been measured in the long-term... As ever, a dramatic illustration of the utter alienation of this culture from the wider ecology that the main interaction most people have with insects is scraping them off the front of the sealed metal boxes they hurtle around the country inside of. The image says it all: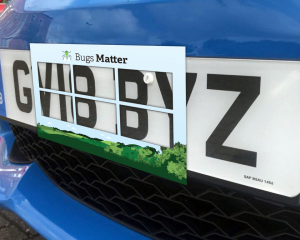 I
*****
https://www.buglife.org.uk/news/bugs-matter-survey-finds-that-uk-flying-insects-have-declined-by-nearly-60-in-less-than-20-years/
Bugs Matter survey finds that UK flying insects have declined by nearly 60% in less than 20 years
Thursday 5th May 2022
A citizen-science survey, led by Kent Wildlife Trust and Buglife, has found that the abundance of flying insects in the UK has plummeted by nearly 60% over the last 17 years; highlighting a worrying trend and the crucial need for insect-focussed conservation research, nationwide.
The 2021 Bugs Matter findings, which are published in a report released by Kent Wildlife Trust and Buglife (Bugs Matter 2021 Full Technical Report), show that the number of insects sampled on vehicle number plates by citizen scientists across the UK reduced by a staggering 59% between 2004 and 2021. These findings are consistent with research which has widely reported declining trends in insect populations globally.
Insect counts differed across the UK, but there was no positive news for insects in any of our nations. England suffered the greatest decline with 65% fewer insects recorded in 2021 than in 2004. Wales recorded 55% fewer insects, whilst Scotland saw the smallest decline, still with 28% fewer insects in 2021 when compared to 2004 figures. Unfortunately, there were too few surveys conducted in Northern Ireland to analyse and draw conclusions. The observed declines are statistically significant and are indicative of a worrying pattern.
The Bugs Matter project, led by Kent Wildlife Trust and Buglife, and supported by a number of other wildlife conservation organisations, is one of the UK's few citizen science surveys of insect abundance that generates important data.
Inspired by the 'windscreen phenomenon' (a term given to the general observation that people are seeing fewer insects squashed on the windscreens of their cars today compared to several decades ago), Bugs Matter enlists the help of the public to monitor the health of the UK's insect populations. The concept is simple: before making an essential journey in a vehicle, clean the number plate. After each journey, count the insects squashed on the number plate using a 'splatometer' grid, which is posted to you when you download the free Bugs Matter app. A photo and count details are submitted via the app.
Insects and other invertebrates are critical to a healthy functioning environment. They pollinate most of the world's crops, provide natural pest control services, decompose organic matter and recycle nutrients into the soil. Without them, life on earth would collapse.
Counting insects not only gives an estimate of the abundance of insect life in our towns and countryside, but is also a measure of the health of our environment. Insects are essential to supporting and maintaining a healthy environment, so when their numbers fall that is an indication that nature is in trouble.
Insect numbers can also show where wildlife is recovering, and so Bugs Matter can be used to measure how the work of conservation organisations and others is helping nature's recovery.
Download the Bugs Matter app to take part in this year's survey, from 1 June to 31 August 2022. Taking part is quick, free and easy.
iOS App Store: Bugs Matter on the App Store (apple.com)
Google Play: Bugs Matter – Apps on Google Play
The results from these ongoing surveys inform a growing requirement for conservation research, policy and practice targeted at insects in the UK.
Matt Shardlow, Chief Executive Officer at Buglife, said:
"This vital study suggests that the number of flying insects is declining by an average of 34% per decade, this is terrifying. We cannot put off action any longer, for the health and wellbeing of future generations this demands a political and a societal response, it is essential that we halt biodiversity decline – now!"
Paul Hadaway, Director of Conservation at Kent Wildlife Trust, said:
"The results from the Bugs Matter study should shock and concern us all. We are seeing declines in insects which reflect the enormous threats and loss of wildlife more broadly across the Country. These declines are happening at an alarming rate and without concerted action to address them we face a stark future. Insects and pollinators are fundamental to the health of our environment and rural economies. We need action for all our wildlife now by creating more and bigger areas of habitats, providing corridors through the landscape for wildlife and allowing nature space to recover."
The Bugs Matter team thank everyone who took part in 2021 and hope that more citizen scientists will take part across the UK in 2022.
For more information and to take part in this year's Bugs Matter surveys, please visit: Bugs Matter – Buglife
To view the full report, please visit: The Bugs Matter Citizen Science Survey – Full Report
To view the report summary, please visit: The Bugs Matter Citizen Science Survey – Summary Report
To help us raise vital funds, to run this citizen science initiative and help stop the extinction of invertebrate species, please donate today. Donations will allow us to run the survey as well as upgrade the official digital Bugs Matter smartphone app to include a virtual 'splatometer' for people to scan their vehicle number plates; digitally recording the number of insect 'splats' per journey.
Donate to Bugs Matter
Want to find out what other actions you can take to help stop the extinction of invertebrate species? Why not sign up to No Insectinction; Buglife's response to the current crisis – a prescription for healing our planet, by restoring our depleted and devastated insect populations.