"I looked at the article again and there's a caveat to be sounded about web pages like those used as the sources here.
Cut and pasted table follows.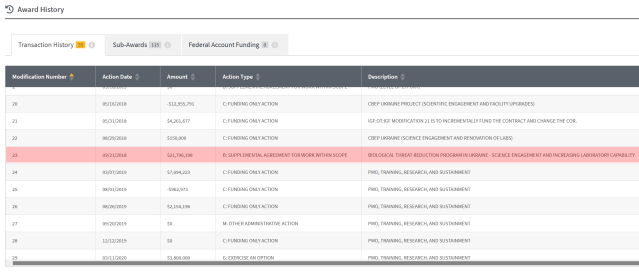 What is clear from this is that some columns are sortable. You change the sort order by clicking an arrow pointing up or down. That triggers a SQL query … ORDER BY $ …
$ would be the attribute such as 'contractor name' or 'date of tender' or 'research type'
'research type' very likely comes from a table called tblResearchTypes which has a unique id and some text. Let's say a row of data was added in Sept 2019 with id=404 and researchtype=pandemic-flu-no-name
Various queries of the database that use that tblResearchTypes.id of 404 will display the relevant text. A query made in April 2020, or April 2022 for that matter will display the relevant text as it stands at that time.
If the entry for tblResearchTypes.researchtype with id of 404 was edited on some arbitrary date (even yesterday) to read covid-19 instead of pandemic-flu-no-name then this explains why a tender awarded years in the past could be listed with the more recent nomenclature.
Sorry if this is a tricky argument to follow, typed one-fingered on a mobile device, but I believe this debunks the Daily Expose line of argument. If they can come up with original documents awarding a tender for covid-19 research and dated prior to covid-19 being a thing, that would be game on. But this is just a
databases do what databases do
result."