"I'm no rabid convert but I have found that every-time I think I'm making progress with my own immediate environment/personal health (and there have been many threats), some b**ger invents (or has already invented), a better idiot! Let's look at some more (circumstantial in this regard), evidence of criminality, this time from from the Vietnam War, quote; "Nearly 60 years following the use of Agent Orange in the Vietnam War—the deadliest use of chemical warfare in history—the devastating after effects of the toxin remain lethal, demanding attention both in Vietnam and at home in America. The People vs. Agent Orange closely follows two activists as they take on the chemical industry, and demand accountability for the pernicious legacy caused by the use of this poisonous herbicide." Go to:
https://www.pbs.org/independentlens/documentaries/the-people-vs-agent-orange/
https://www.youtube.com/watch?time_continue=1623&v=6u8zqhpZb7k&feature=emb_logo
]
Operation Popeye
"WASHINGTON, July 2—The United States has been secretly seeding clouds over North Vietnam, Laos and South Vietnam to increase and control the rainfall for military purposes.
Government sources, both civilian and military, said during an extensive series of interviews that the Air Force cloud seeding program has been aimed most recently at hindering movement of North Vietnamese troops and equipment and suppressing enemy anti-aircraft missile fire.
The disclosure confirmed growing speculation in Congressional and scientific circles about the use of weather modification in Southeast Asia. Despite years of experiments with rain-making in the United States and elsewhere, scientists are not sure they understand its long‐term effect on the ecology of a region.*"
https://www.nytimes.com/1972/07/03/archives/rainmaking-is-used-as-weapon-by-us-cloudseeding-in-indochina-is.html
*Italics mine.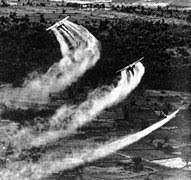 How can the Technology Review claim that, quote;
"In 2009, Russian scientists conducted what is believed the be [the first outdoor geoengineering experiment]?"
We've at least two documented cases of weather modification "geoengineering" from decades ago.
Let's not forget what Glyphosate is doing now either."