Normal Tory service has been resumed
Posted by Raskolnikov
on July 8, 2020, 8:35 am
You've had your day in the sun, now cough up paups.

https://www.dumptheguardian.com/society/2020/jul/08/free-hospital-parking-to-end-for-nhs-staff-government-says

Free hospital parking for NHS staff in England will end in all but "certain circumstances" once the coronavirus pandemic begins to ease, the government has said.

The health secretary, Matt Hancock, announced on 25 March that the government would cover the costs of car parking for NHS staff who he said were "going above and beyond every day" at hospitals in England.

But the Department of Health and Social Care (DHSC) has said the free parking will continue only for "key patient groups and NHS staff in certain circumstances" as the pandemic eases, although no further timeline has been given.

The British Medical Association (BMA) has said to reintroduce charges while the virus is still being fought would be "a rebuff to the immense efforts of staff across the country and the sacrifices they have made to keep others safe".

AS Steve Bell capture perfectly here (regarding Bozo's throwing care homes under the bus):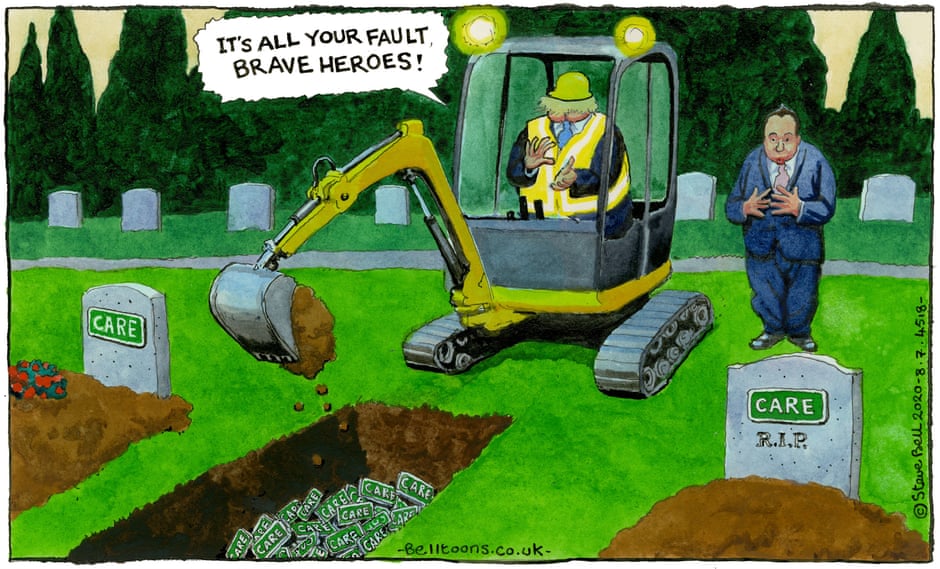 They are, and always will be, lower than vermin.