Who has had the flu jab..?
Posted by Gerard
on April 3, 2021, 12:39 pm
"Influenza vaccination rate refers to the number of people aged 65 and older who have received an annual influenza vaccination, divided by the total number of people over 65 years of age. This indicator is measured as a percentage of the population aged 65 and older who have received an annual influenza vaccine. The data come from administrative sources or surveys, depending on the country." https://data.oecd.org/healthcare/influenza-vaccination-rates.htm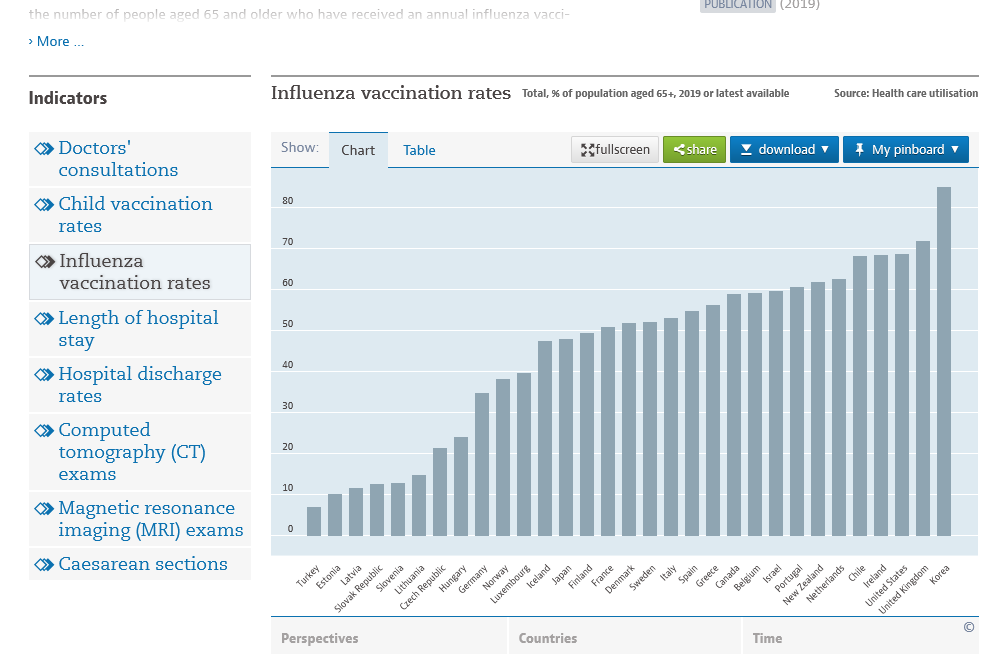 "ECDC is via the network VENICE (Vaccine European new Integrated Collaboration Effort) collecting, sharing and disseminating information on national immunization programmes and provides guidance for improving the overall performance of the immunisation systems in EU/EEA Member States.

The latest data on vaccination coverage by country in the EU/EEA of different risk- and target groups are available in the following report:" https://www.ecdc.europa.eu/en/seasonal-influenza/prevention-and-control/vaccines/vaccination-coverage

"'In 2009, Health Ministers from across the EU signed up to modest target: to vaccinate 75% of older people against flu. 10 years on, no EU country has kept its promise'

On 22 December 2009, health ministers from every EU Member State made a new commitment: to vaccinate at least three quarters of all residents aged 65 years and older. Now new data from Eurostat, the EU statistics agency, shows governments have failed.
Story highlights

44% of people in Europe aged 65 years and older are vaccinated
No EU country has hit its target to vaccinate three out of four people in that risk group
There are no penalties for missing this target
Older people are just one key target group
WHO says pregnant women are the top priority, followed by health workers and people with chronic diseases such as diabetes, asthma and heart failure

No EU Member State has reached its 75% target and the rate across the EU is 44.3%. However, there are no political consequences: while there are penalties for breaching EU rules on carbon emissions, budget deficits or employment regulations, there is no sanction for missing vaccination targets.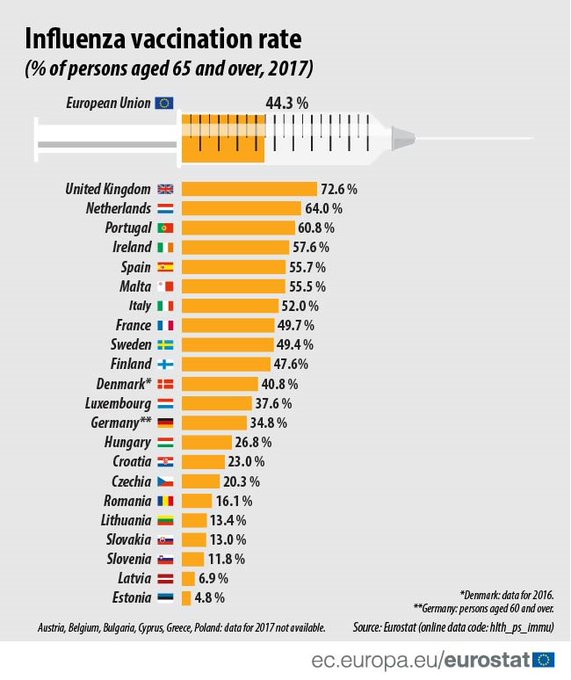 The flu vaccination targets are considered to be 'soft law' rather than 'hard law', meaning they are not legally binding. Strict EU health targets are rare because health is a matter for national governments rather than a European responsibility."…

"While the ECDC guidelines follow the European Council's target of reaching 75% of older people, the WHO lists pregnant women as the top priority for flu vaccination. Some countries in Europe are rolling out campaigns aimed at boosting flu vaccine uptake during pregnancy, but others are less active." https://www.vaccinestoday.eu/stories/flu-vaccine-did-your-country-hit-its-target/

N.b During the seventies, eighties and nineties vaccination for flu was rarely performed (if at all), but I don't recall any panics concerning flu epidemics occurring in the U.S or Europe during these decades (?), but I do recall how threats like H1N1 began to become prevalent after the turn of the millennium.