Today's Tuesday so Papa Johns, like Pizza Hut before it, had the Two for Tuesday promotion that they stole from Dominos.
As I've stated before, Papa Johns has the best pizza that I've had in the UK. That's faint praise given the quality of the pizza here but there we are. I'm happy to pay their premium prices for relatively premium pizza.
But today, I also had a hankering for some french fries. I rarely get side orders with pizza unless they're part of a deal but took a chance. I considered the ten jalepeno cheese dipper things because I had them before and they were alright but no. I wanted a big box of fries instead. They only offered wedges but I like wedges too. A more upscale version of fries.
This is what I got:
Please bear in mind that the above picture is BEFORE I started eating. I paid £3.50 for twenty "wedges" that are almost french fry size? For the same price, I could have got the jalepeno dippers.
Now, I have the utmost respect for the pizza delivery industry. So even though the pizza was fairly late, I didn't get the confirmation email until like 40 minutes after I ordered (the long wait prompted me to call them to make sure they got my order), and the system put my OLD address on there even though I updated it to the new one (which prompted a call from the pizza delivery guy to confirm which address is correct), I still gave the delivery driver a £3 tip because of my respect for the industry. And besides, these problems aren't the fault of the driver.
And how am I repaid? By this insulting portion of wedges. I'm a great customer and all I ask for in return is passable goods and services.
Big time disappointment for Papa Johns. Will I order again? Well, I'm not a regular customer but I order once in a while and I don't think that this will change. The pizza was excellent as always. But I'm certainly not going to opt for this tiny portion of small, greazy, flavourless wedges.
Oh, and it goes without saying that they gave me the wrong dip. I wanted something called "hot buffalo" and they gave me barbeque (which is a different dip).
This particular store has a lot of negative reviews on some Google review page or something. The service has been questionable in the past and for a long time they got rid of their internet ordering service. I imagine that things aren't run very well. But I overlook all of this because I've been in the pizza delivery business and know that it can be difficult. No excuse for these sad wedges, though.
Also disgusting: I was watching Countdown today and saw this: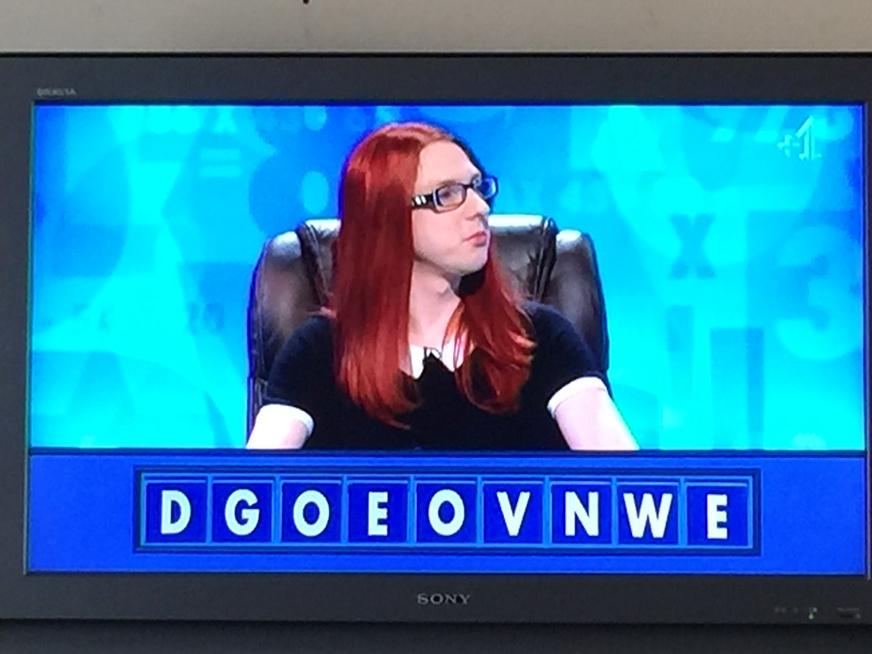 A man dressed as a woman calling herself "Charlotte". Some amusing comments on Twitter. And she was a terrible player. One comment summed it up thusly:
Charlotte is a poor excuse for a #countdown contestant. Fours galore.
So it obviously wasn't his/her Countdown talent that got him/her on the show. What was it then? The Jews pushing their sick, destructive agenda onto the British public.
Actually, are Jews heavily involved in British television. I don't want to sound like a crazy person. I mean, if Jews are big in British television then I stand by my comment. But if they aren't, I have to blame somebody else for this abomination.